Well, you can get all kinds of scholarships through the music department at UNM. With an audition, you can even be eligible for a marching band grant! What better section to join up with than the Trumpimps, eh? You can get grants through other groups as well. This year, everyone in the marching band is getting at least $250 in cold, hard cash. But you gotta be enrolled in the class and be a full time student at UNM to be eligible for this stipend.
Music education majors
: Make sure you check out other scholarship opportunities that are just for you (lots of money = good thing). And all majors, check the
College of Fine Arts homepage
for new postings on music scholarships that may be available to you.
More Fun...
Still feeling peppy and full 'o spirit at the end of the season? Join Soundpack, the basketball pep band, and play really kick ass tunes. We go to the
MWC
tournament in
Denver, CO
every year! PLUS! The athletics department PAYS members of the band per game. That means making nearly $700 for playing the entire season. Sweet deal.
Don't forget to audition for Symphonic Band, Wind Symphony, or Jazz Band during, at the end of, or the following week after band camp. Check out Dan's group, Concert Band, too. No audition required. Fun, comtemporary, classic, challenging, it's all good. Like cookies and pie.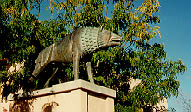 UNM Fight Song

Hail, to thee, New Mexico!

Thy loyal sons are we.

Marching down the fields we go,

fighting for thee. Go! Fight! Win!

Now, we pledge our faith to thee.

Never shall we fail.

Fighting ever, yeilding never, Hail! Hail! Hail!